Editors Note: We previously posted about this on twitter.
At the Electronics Flea Market in Silicon Valley, we recently picked up this vintage spiral bevel gear set.
It's still sealed up in its original 1950s US navy packaging. Let's see what's inside!

The whole outside of the box is wrapped in the tissue paper, and was initially held in place by some cellophane tape. The tape expired decades ago, but the rest of the packaging seems to be in great shape. (Hobby knife for scale.)
The tissue paper on the of the box is stamped "Open Only For Use."
That's good advice. The box is sealed and waterproof, but once it's open, everything inside can begin to rust.
A little hard to read the label, just yet. Let's cut back the wrapping paper.
Cutting away the tissue paper over the label, we can read it now:
5″/54 Cal. Mt. MK 42 Mod1-8
Stock No. Z012-LD-280650-6
Part Name Gear set, spiral
Qty 1 Unit pc
Contract NOrd 10337
Date 2 1956
Northern Ordnance, Inc.
Fridley, Minn.
That's quite a bit of information! It's a spiral gear set (we knew that part), manufactured by Northern Ordnance, Inc. (Fridley, Minn.) in 1956. And, it appears to be a spare part for the the drive system of the 5″/54 Caliber Mk 42 naval gun mount:
This type of gun was used on US Navy destroyers in the 1950s, and is still in use by some navies today. For scale, the barrel on that is 6.9 meters in length.
But, let's get back to the box.
The outside of the box is covered in a thick (1-2 mm) layer of green wax, a little bit like you might find on a wheel of soft cheese. It appears to be cardboard underneath.
Turns out that hobby knives work quite well to cut through the wax and cardboard. (However, we have a sneaking suspicion that we were supposed to peel it like a cheese instead.)
It looks as though the cardboard box was first wrapped in lightly-waxed gauze and then dipped entirely in the wax for a watertight seal.
Under the lid, we find several pads of dense cotton wadding. This box does not rattle.
Inside, under the wadding, we find two tightly wrapped bundles.
The inner packages are not sealed, just folded over like a wrapped sandwich with a single piece of (long deceased) tape.
The wrapping material is a salmon-colored crepe paper, lined with plastic on one side. Although it looks like the paper is wet, it turns out to just be a little of the sealing wax.
Inside the little package: The first of the gears!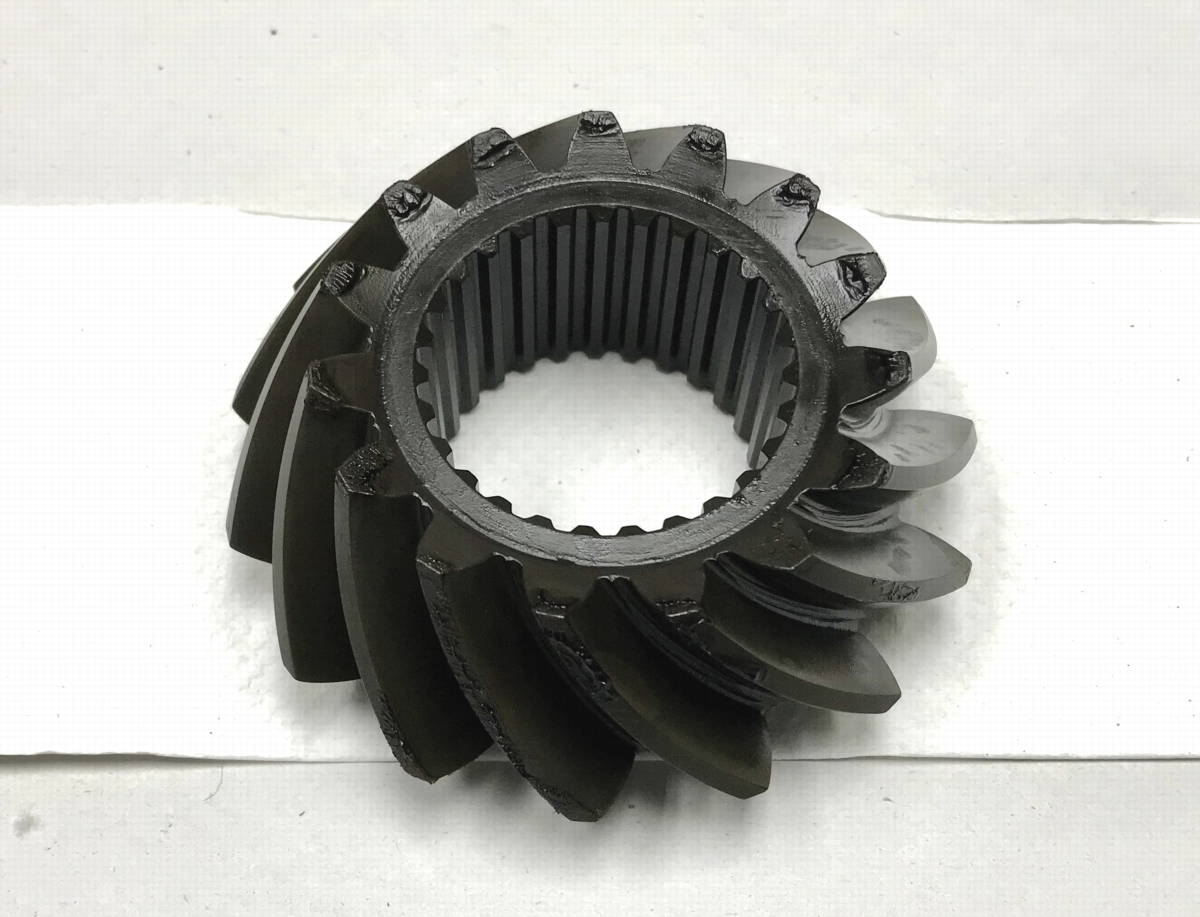 Here's a better view of the small gear. Look at that workmanship!
Keep in mind that these gears were designed by engineers using slide rules — not a computer running CAD software. And they were built by machinists using regular "analog" machines, not programmed on a modern five-axis milling machine. (A perhaps surprising amount of modern machinery is still made this way.)
Now, here's the big gear. It's greasy in there, but no sign of corrosion.
Big gear, better view. Check out those cut splines in the middle!
And finally here are the two of them, perfectly meshed at 90 degrees.