Today we are releasing our newest set of "Download and Print" cards for Valentine's day. This is our fourth year, and fourth set of cards: The 2013 set had six equation-heavy cards, the 2014 set was a set of six symbol-heavy cards, and the 2015 set included love, hearts, and arrows.
This year's set of six new cards features a note about warming Pluto's cold heart, at least one embarrassingly bad pun, and the perfect card for your robotic expression of love.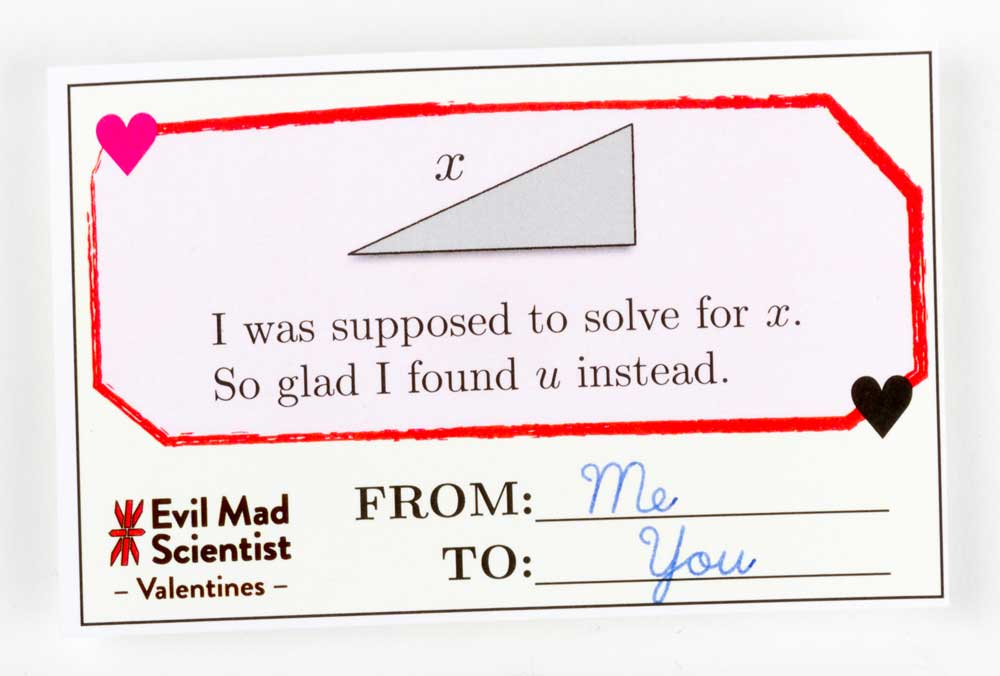 "I was supposed to solve for x. So glad I found u instead."
And, from the distant reaches of our solar system:
"Just knowing you're out there warms my heart."

"ROSES ARE RED
VIOLETS ARE BLUE
THIS VALENTINE AUTOMATICALLY
GENERATED FOR YOU"
You can download the full set here, which includes all 24 designs from all four years (a 1 MB PDF document).
As usual, print them out on (or otherwise affix to) card stock, personalize, and [some steps omitted] enjoy the resulting lifelong romance.
---
Update: New cards have been released! Please check out the 2019 set, which contains all 42 cards from 2013 through 2019.