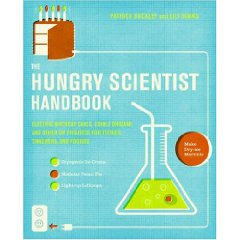 Today is the official release date for the Hungry Scientist Handbook, a new book by Patrick Buckley and Lily Binns.
The Hungry Scientist Handbook was conceived as a sort of cookbook for geek-centric food and– using the word a different way– as an a cookbook for food-oriented electronics– as evidenced by projects varying from polyhedral pies to LED lollipops.
We met Patrick and Lily at the 2006 Maker Faire, where they invited us to contribute a couple of chapters to their project. We did, and it's finally out!
(We aren't the only ones who are excited– we've seen write-ups at the LA Times and
Wired this week.)
We contributed a total of nine projects to the Hungry Scientist Handbook, some of which we have written about here. These include the Computer Chip Trivets, Crafty fridge magnets, Edible Origami, and (making a cameo appearance) the Lego Trebuchet.
We also contributed a few new cooking projects that involve dry ice: Dry (Ice) Martinis, Fizzy dry ice lemonade, and Dry ice root beer. (With Floating bubbles on CO2 as a bonus project.)
And… a brand new exclusive Evil Mad Scientist Laboratories electronics project that we developed just for the Hungry Scientist Handbook: Smart Coasters.
Smart Coasters are cast-plastic coasters for your drink that light up red when you put a hot drink on top and light up blue with a cold drink. The design is fully analog– no microcontrollers and no programming– and they incorporate a solar cell so that the whole thing is hermetically sealed: waterproof and washable. Complete step-by-step DIY instructions are included for both the electronics and the resin casting.
You can purchase the Hungry Scientist Handbook at booksellers including Amazon. Also visit their new web site, www.hungryscientist.com.