It has been reported that Maker Media is shutting down and that Maker Faire is at its end. Evil Mad Scientist has its roots in Maker Faire, and has been presenting there from the very beginning, so it seems fitting to look back at our Maker Faire projects now.
For the very first event in April of 2006, we brought the Interactive LED Dining Table that we built when we moved to the bay area. The attendees were incredibly engaged by it and we had multiple people express interest in making one. In addition to bringing our table, Windell gave talks on atomic clocks and using POV-Ray. We were incredibly inspired by the amazing projects we saw. One exhibit that helped push us in the direction of our 2007 Maker Faire project was the incredible 3D printed sculptures by Bathsheba Grossman.
For the second Maker Faire, we brought the CandyFab 4000, a 3D printer that printed objects out of granulated sugar. We even printed one of Bathsheba's designs with it. It was made from hacked together pen plotters and a car jack, and used woodworking, sewing, laser cutting and a variety of other fabrication methods.
For the Bay Area Maker Faire 2008, we brought a host of projects. We were working on a revision to the CandyFab project, and brought our work-in-progress for that. We also brought an assortment of our blog projects from the year. We hosted a BristleBot workshop in our booth: a table filled with motors, batteries, toothbrushes and tools. Our collaboration with Because We Can to make Interactive LED coffee tables was on display. By then we also had kits in the Maker Shed.
For the Austin Maker Faire 2008, we held workshops on making bat costumes from umbrellas and High-Tech pumpkins.
By the 2009 bay area event, we had the CandyFab 6000 completed: it was built from scratch with no scavenged parts, and produced food-safe output.
For Austin in 2009 we brought some simple solar circuits. The Austin event being close to Halloween made it perfect for projects like a microcontroller-driven, dark-detecting, solar-powered programmable pumpkin.
For Bay Area 2010, the Friday before Maker Faire was designated education day, and we did another Bristlebot workshop. For the Faire itself, we brought our Tabletop Pong game. We were also starting our collaboration with Bruce Shapiro on the EggBot which was there, too.
In 2010 both Detroit and New York were started. For Detroit, we exhibited the EggBot with Bruce next to an optical player piano roll reader which triggered car lock solenoids to play a digital piano.
In New York, we brought Interactive LED Panels in addition to EggBot, but EggBot was what caught the eye of the Martha Stewart show producers who were scouting Maker Faire for show ideas. They ended up doing a whole show featuring projects from Maker Faire, including the EggBot.
In 2011 we built a large scale recreation of the Digi-Comp II binary mechanical rolling ball computer from the 1960s. It was a huge hit. We taught so many people about binary math. We were working on it right up until the faire, with friends over to help us assemble it, and then disassemble it to fit it in pieces into our Prius to take it to the faire.
We took the prototype of our small scale Digi-Comp II recreation to New York.
The big Digi-Comp II was so much fun that we took it to bay area in 2012 as well. Our friend Schuyler spent much of the event running the machine and getting better at binary math.
In New York, we demonstrated our kits in the Maker Shed, giving talks about EggBot and showing many blinking LED things.
In 2013, we brought a new collaboration to the Bay Area Maker Faire: the WaterColorBot. Our friend Zeph, who had been coming to Maker Faire since being a baby, also took it to RoboGames and the White House Science Fair. (Aside: we're super proud of Zeph, who just graduated from high school last week.) Part of what has been amazing about Maker Faire has been working with the young makers.
For New York, Atmel invited us to exhibit in their booth. We brought our Octolively modules, which use an ATmega164 microcontroller and is a descendent of our first maker faire project. We also brought along our then new Three Fives kits.
At Bay Area 2014, Windell gave a talk on Open Hardware Best Practices, and I hung out with the amazing Meredith Scheff-King with a bunch of soft circuit projects.
In New York that year, I was on AnnMarie Thomas's Making Makers panel, and Windell participated in the Let's Make Robots booth.
For Bay Area 2015, Windell had just published The Annotated Build-it-Yourself Science Laboratory and gave author presentations about the book. I hosted a panel looking back at Ten years of Maker Faire with a bunch of the keystone figures from the event over the years, including Stephen and Fritz of Diet Coke and Mentos fame. The robotics team we were mentoring was also exhibiting that event with WRRF.
For the 2015 New York Maker Faire, Windell again gave author presentations, and I helped out with the MakerEd booth.
We brought perhaps our most elaborate collaboration to Maker Faire Bay Area in 2016. This was the debut event for the MOnSter 6502, a transistor-level recreation of the MOS 6502 processor, masterminded by Eric Schlaepfer. We were also at that time collaborating on the AYAB project, to provide modern interfaces to vintage knitting machines. It was on display in the booth for the Machine Knitters Guild of the San Francisco Bay Area. Windell also did another author talk.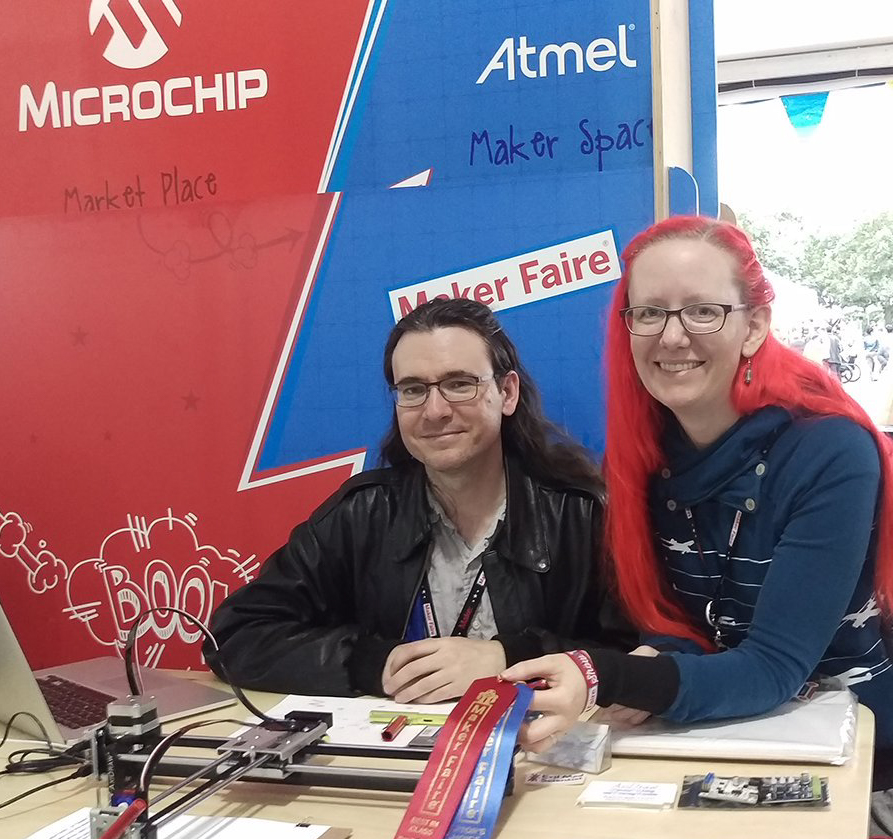 In New York, Microchip invited us to exhibit in their booth, and we brought the AxiDraw, which runs on a Pic microcontroller.
For Bay Area 2017, AYAB returned with the machine knitters, and the MOnSter 6502 came out to play with a new, more capable machine to work in, along with demo programs to show it off.
2017 also featured the New York debut for the MOnSter 6502, and east coasters had their first chance to play with it.
For Bay Area 2018, we endeavored to make the small visible: we brought microscopes and decapped ICs for our Uncovering the Silicon project. Many people got to see inside of chips for the first time. We brought interesting looking chips as well as popular ones like the MOS 6502, the NE555 and the μA741. We also brought along large scale examples of some of the decapped chips, including the MOnSter 6502 and the Three Fives and XL741 kits.
At an earlier Maker Faire, our friend Matt Stultz hosted a Peanuts-style "Ask a Maker" booth. Inspired by that, but wanting to reach a larger audience, I hosted an Ask A Maker panel at Maker Faire New York 2018. I was privileged to host a great panel of folks, including Matt, Sophy Wong and Jimmy Diresta.
Last month at Bay Area Maker Faire 2019, we brought together a dream team of makers to hone the Uncovering the Silicon project into a beautiful tutorial of what is inside integrated circuits. Mike Szczys of Hackaday got a great video of Windell explaining it, and if you haven't seen it yet, it's well worth a watch.
This brief walk through of our Maker Faire projects is by no means a complete history of our Maker Faire experience. We've attended many mini-Maker Faires. We've written for and been written up in Makezine and other maker publications. Our Maker Faire projects have gone amazing places outside of Maker Faire. We've made more friends, connections, and collaborations than we can possibly list here. And those will go on.